Obtained FSSC22000 certification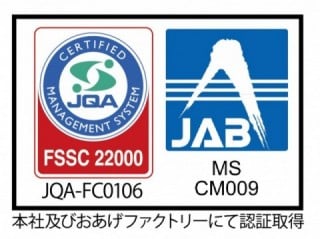 DAIKYO FOODS has acquired the international certification standard FSSC22000 (Food Safety Management System), and builds and operates the system in the company in accordance with these FSSC standards. We strive to maintain and improve quality and safety by strictly controlling each process from receiving raw materials to production and shipping.

Hygiene Management
Rolling with an adhesive sheet when entering the production site, removing foreign substances such as hair with an air shower in the air shower room, hand washing and alcohol disinfection are carried out to ensure thorough hygiene management of employees. We also strive to raise employee hygiene awareness through regular food hygiene education.

Quality Management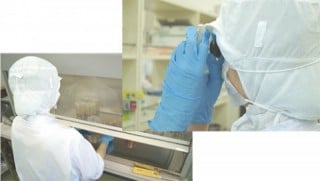 The Quality Control Office strictly sets standards for raw materials and products to ensure safety. In addition, we carry out strict bacterial tests, physics and chemistry tests, and sensory tests on all products, and we only ship products whose quality and safety have been confirmed through these tests.