Quality control

The FSSC22000 certification acquisition
I authenticate FSSC22000 (food security management system) which is the international certification standard and acquire the DAIKYO FOODS and I build a system along these FSSC standards in a company and run it. I act for maintenance, improvement of quality, the safety by performing strict management in each process to lead to production, shipment from raw materials acceptance.

Hygiene management
Removing foreign substances such as hair by air shower and roller when entering the production site.
In addition, the hygienic awareness of the staff is improved through the regular food hygiene education.

Quality control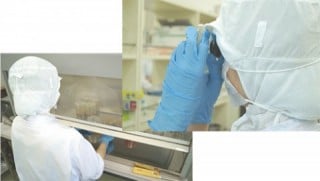 The quality management room has strict rules on raw materials and commodities in order to ensure food safety.
In addition, all the products must take strict bacterial testing, physical and chemical inspection and functional inspection. Only pass these strict checks and the quality and safety are assured products can be sent to customers.